The summer holiday season is nearly here. Looking outside today and seeing the waterfall cascading down my window, I can't wait to spend some time in the sun but a recent survey carried out by Glassdoor has some worrying statistics when it comes to us and our annual leave habits.
The survey results showed that 23% of workers take their mobile devices on holiday and reply to emails whilst "on the beac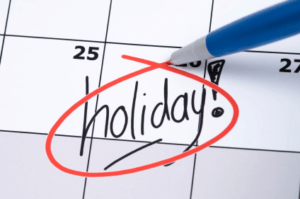 h". Around 15% of people actually carrying on working so they don't fall behind!
15% of participants had been contacted by their manager while away from work, so it's no wonder that just 50% felt able to totally relax whilst on holiday.
Even more worrying is that 40% of those surveyed only took, at most, half of their annual leave entitlement in the year.
We believe that this needs addressing as a matter of urgency!
Are employers expecting their staff to be in constant contact (despite what the holiday policy might say), do employees feel under pressure to respond to email wherever they are, or have we all just got to the point where we can't switch off?
None of which are healthy – rest and leisure time is crucially important to our well-being and essential to enhancing our productivity when we are at work.
With mental health and well-being in the workplace becoming a much stronger focus, what is it that employers need to do to shift the culture to enable staff to regain that time out? HR experts have pulled together some ideas – Read the full article from Personnel Today: here
What would work in your business?   At vivoHR a holiday is absolutely just that – in fact Sam won't even take her phone on holiday so there is no chance of her being tempted into checking email!  That is partly possible due to good planning and organisation, but primarily due to having a team that are trusted to hold the fort.  Before each of the team go on holiday we'll be having a handover meeting and we'll do the same when each of us returns.  We'll communicate to clients in advance and we'll make good use of out of office notifications and our call answering service to ensure clients always get the HR Support they require.  Prioritising and then scheduling in non-time-critical work around holidays means the business will run smoothly and everyone can take a proper break.  How can you do the same in your business for you and your team?
Download our HR Guide
7 Questions for sure fire success as an employer